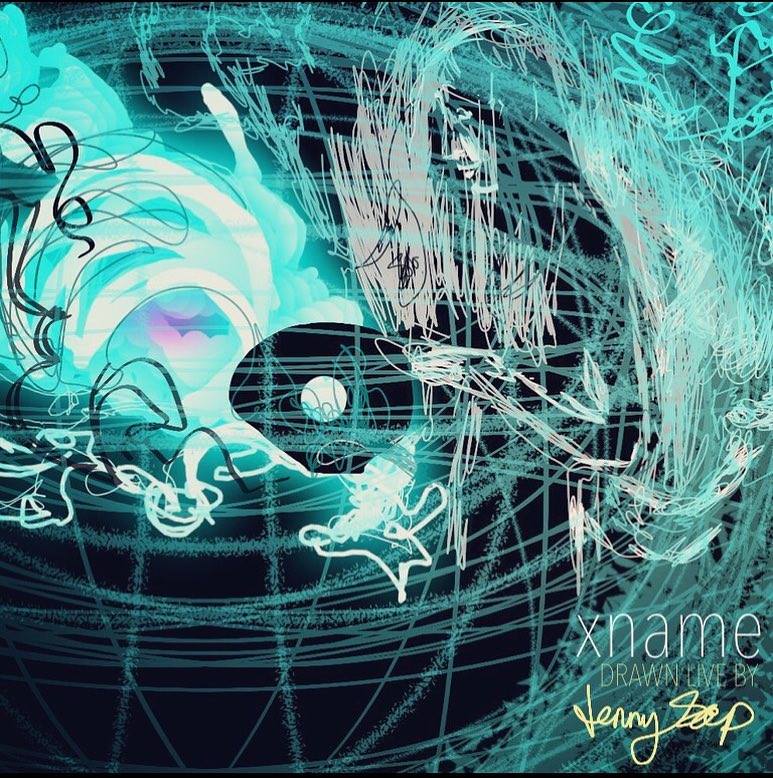 blurb
Phantasmata = n. pl. phan-tas-ma-ta, from Greek phantasma. Images of the soul, mental images, something existing in perception only; Mental imagery (varieties of which are sometimes colloquially refered to as 'visualizing,' 'seeing in the mind's eye,' 'hearing in the head,' 'imagining the feel of,' etc.) is quasi-perceptual experience; it resembles perceptual experience, but occurs in the absence of the appropriate external stimuli. More on philosophical connotations of mental imagery here. The image is a process - and a predicate - of the brain, not a property of the world represented. "...nothing can ever be present to the mind but an image or perception..." (Hume, Enquiry XII.1)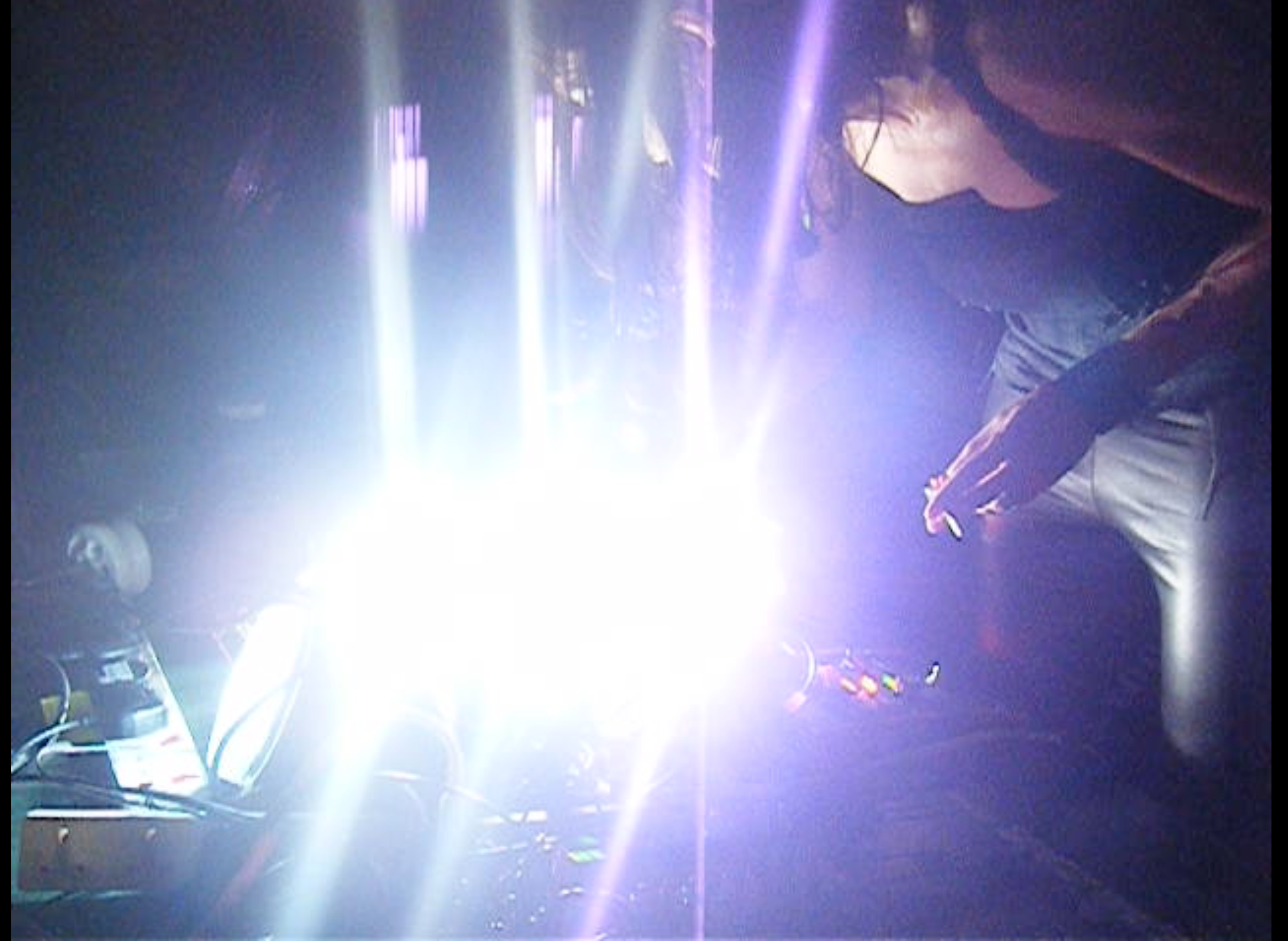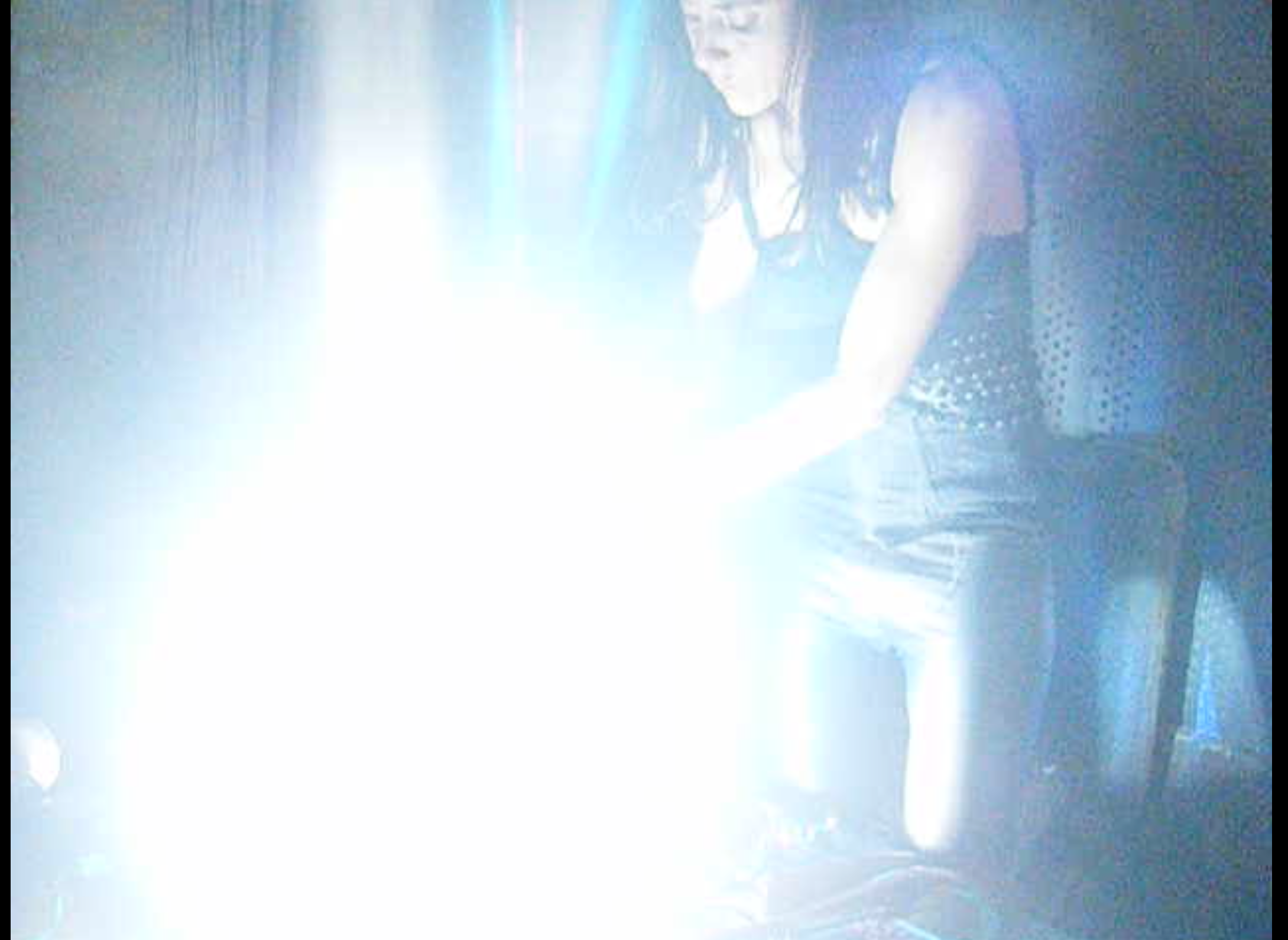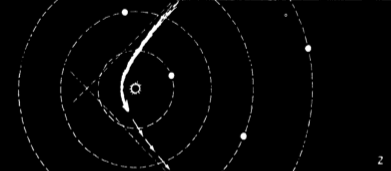 Description = Empiric noise-at-a-distance, electronic circuits, pulsating lights.
Technique = Phantasmata is transformation of light into electricity and electricity into sound.
Instructions = Beware of your ears, close your eyes.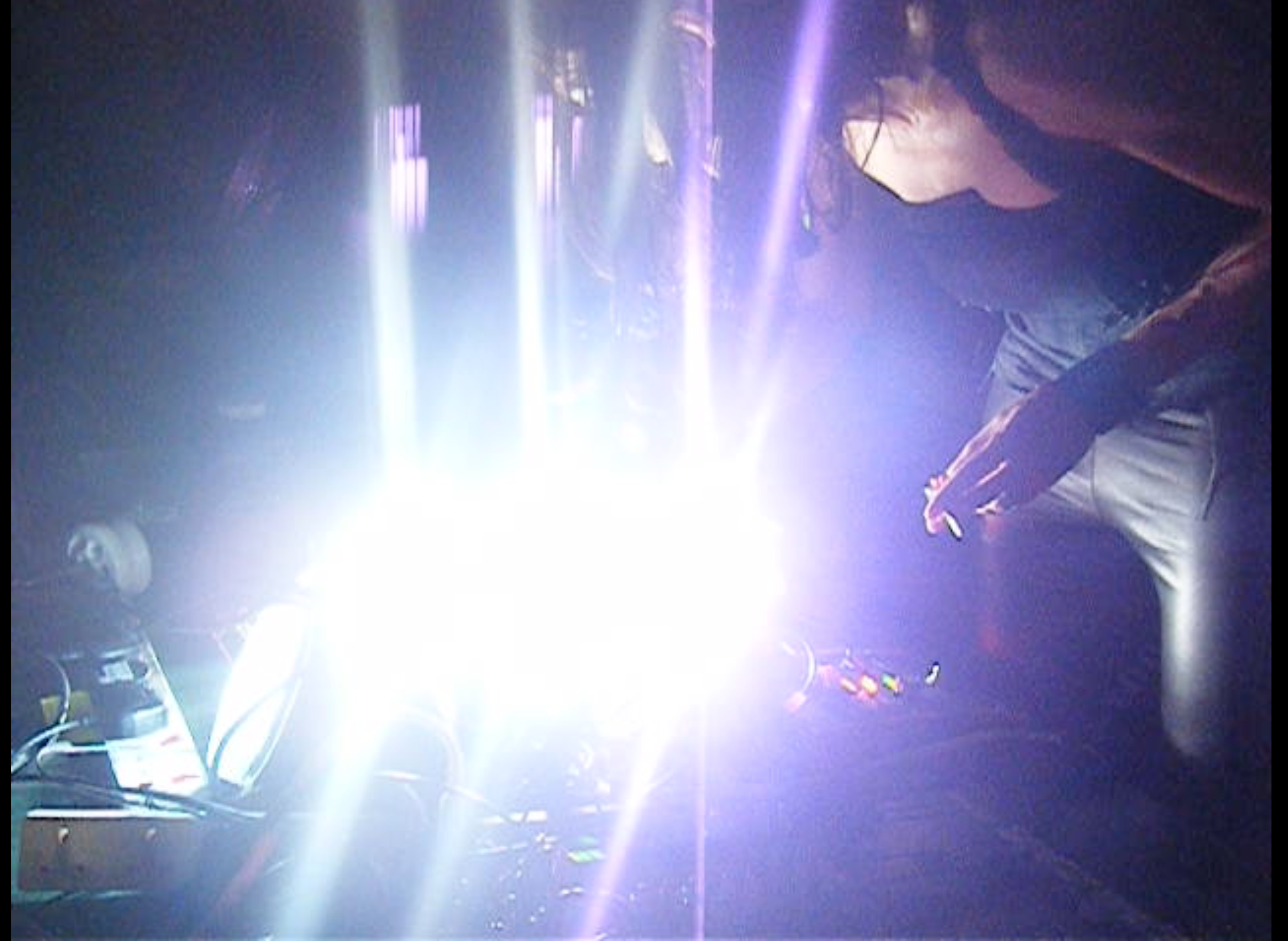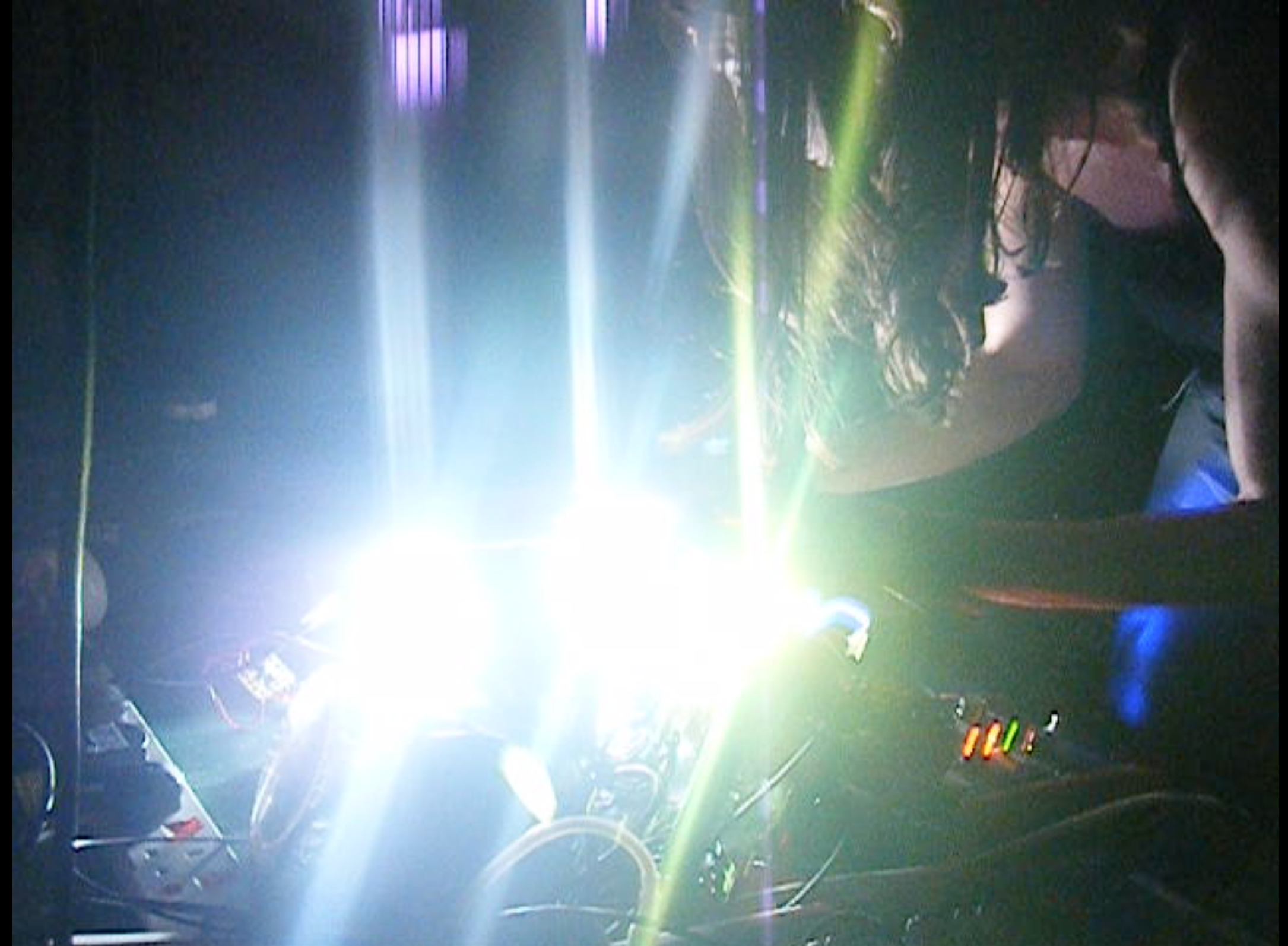 Collateral effects = Allucinations, synaesthetic visions, phantasmata.
Disclaimer = If you think this performance may offend you, please call an Immortal.
Thanks = Otolab, Piksel, DIY Makeaway, Ralf Schreiber, noise=noise.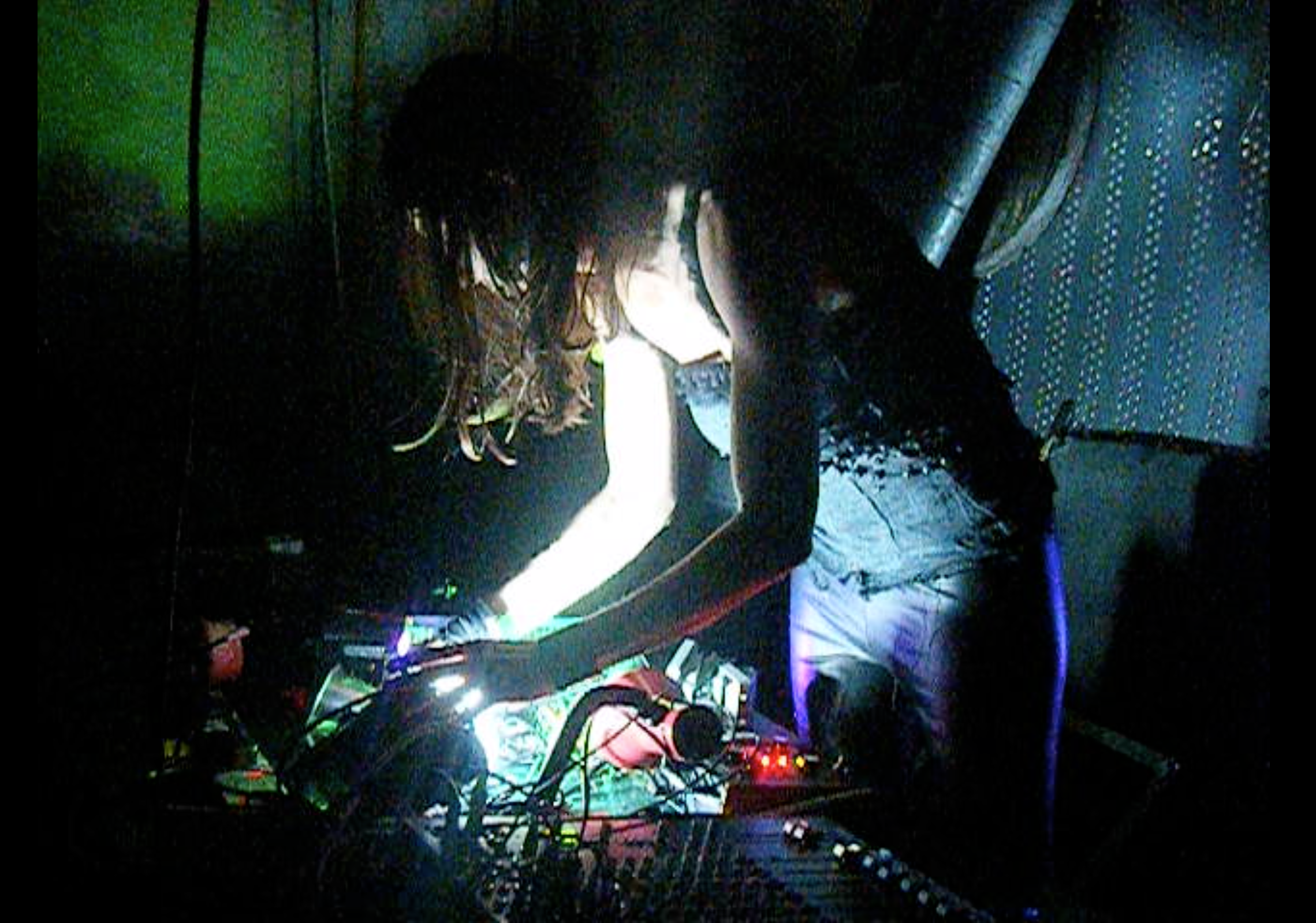 History = Piksel 2009, Norway: bot1 was born, a micro oscillator built at DIY Makeaway's workshop. Micro-chip 74HC plus a solar panel. Bot2 was built years before in Berlin, at Transmediale. Legs are chopped to increase sound. Bot3 is a micro_noise bastardizing the online instructions, plus a solar panel. Bots come and go, such is life. Milan, Otolab: experiments with Stoboscopic lights and Psychoscopio by Peppo Lasagna. London, Event Gallery, exquisite_code launch: first public solo performance: crocodiles connect the bots to the mixer. London, noise=noise on paranormal: the performance is named Phantasmata for the first time.

Origin = This technique has inspired a number of derivative projects, for example Megatzunami, and the the great 'lumanoise', and has been blandly copied by others. The first time I saw strobo lights used to make music was in Kurt Hentschlager's incredible piece Feed which I attended in Bologna in January 2006 at Netmage, when I also interviewed Kurt about electronic synesthesia inducing epilepsy and altered states. I saw Feed a second time in Amsterdam, and had a chance to have another deep conversations with Kurt about art and music.
His work has, since then, left a strong impression on me.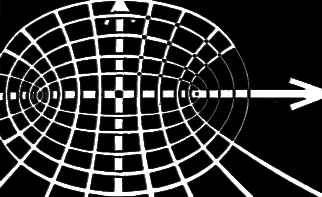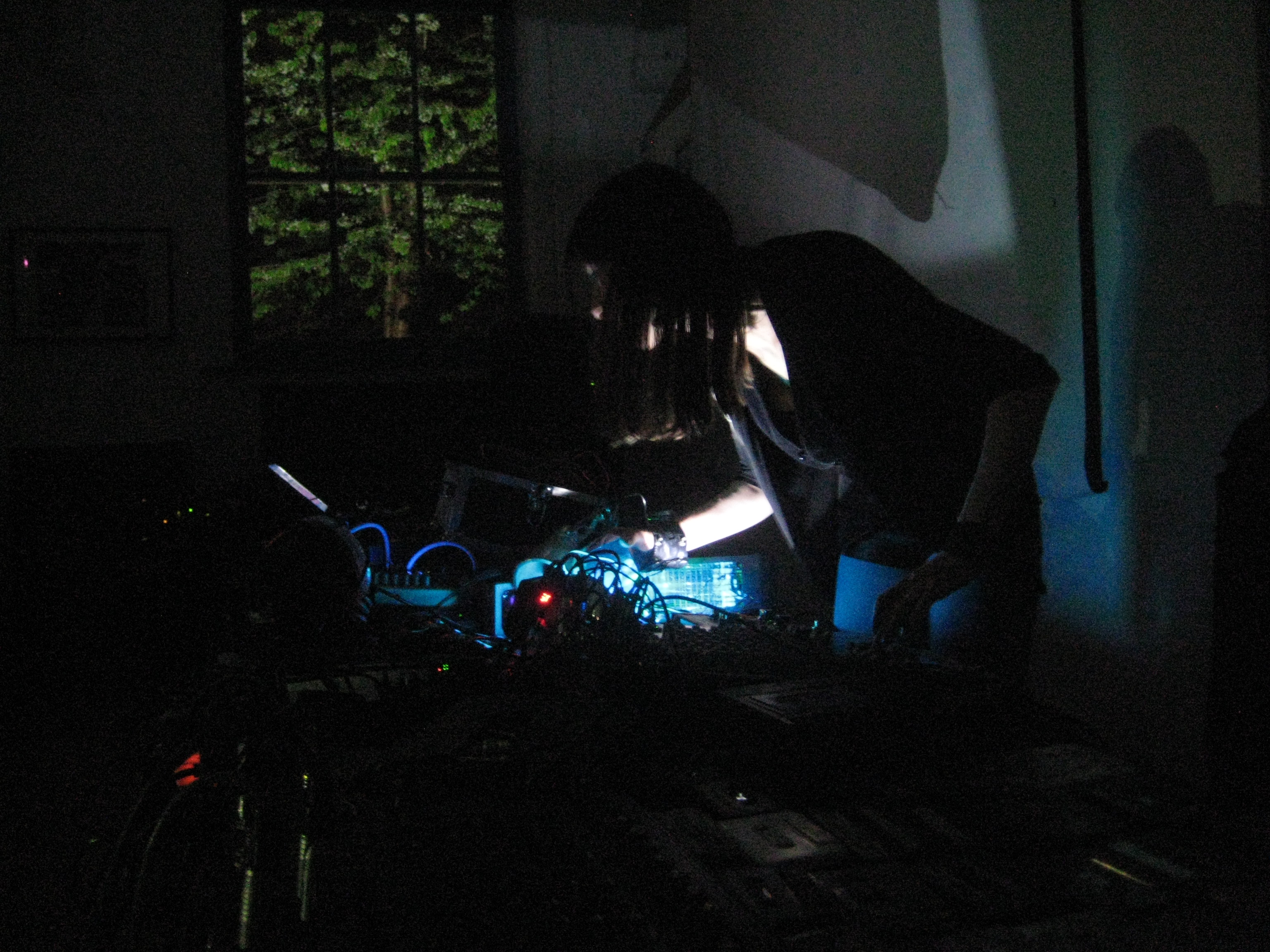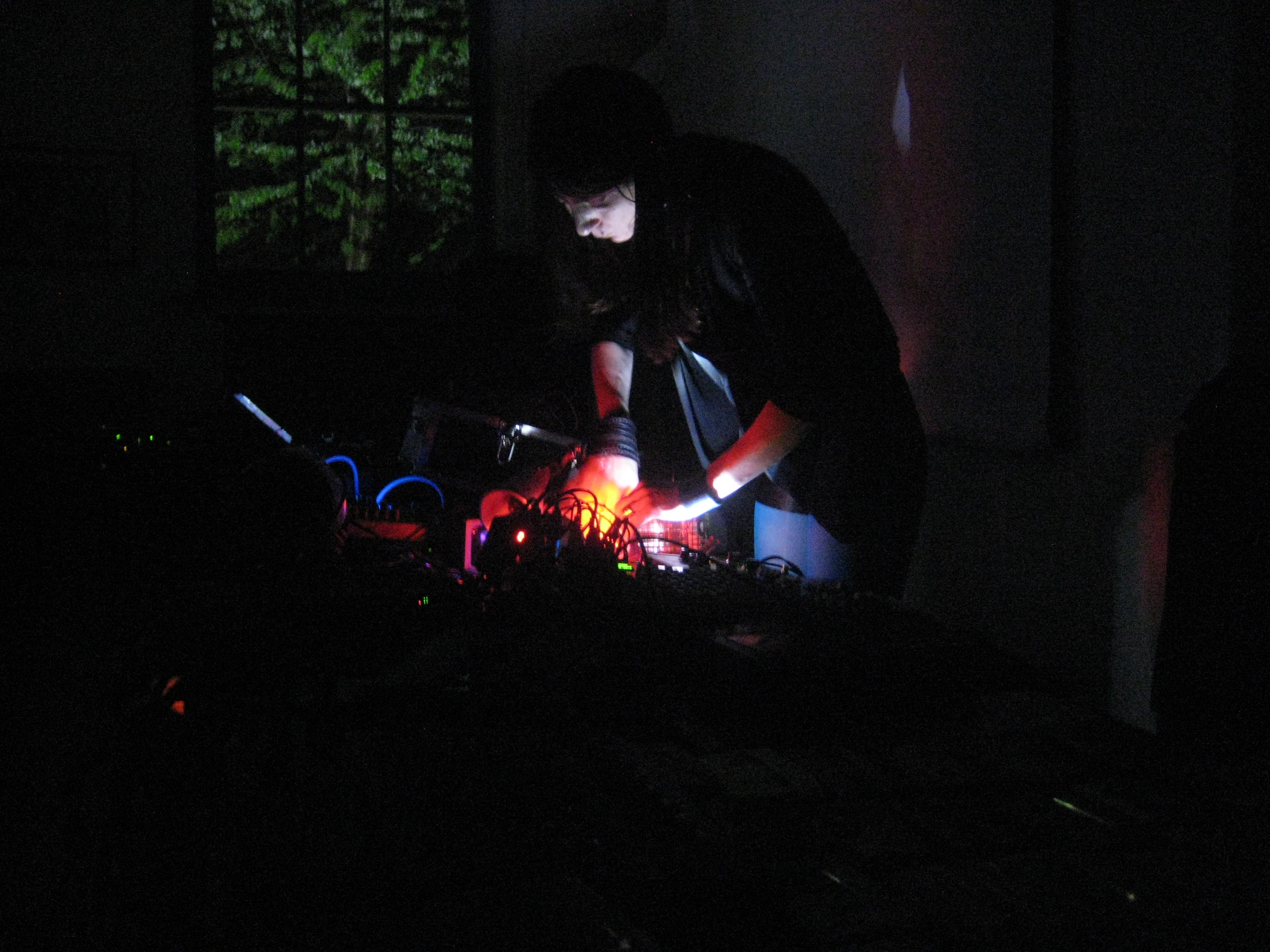 bio
Phantasmata is the noise acronymous of xname, a multimedia artist born in Milan and currently based in London. Her live performances are developed through the use of artificial lights and home-made micro-oscillators which generate sound waves. The light, transformed in electric current, passes through the circuit and exits in the shape of a sonic frequency, while the sound, modulated by manipulating the light sources, becomes tactile and synesthetic. The result is an hypnotic spectacle dominated by stroboscopy and industrial and noise-techno frequencies. Recently she has been experimenting with the effects of network lag and time delay on amplified sounds that, streamed to different servers, feed back to the speakers after travelling through the Internet.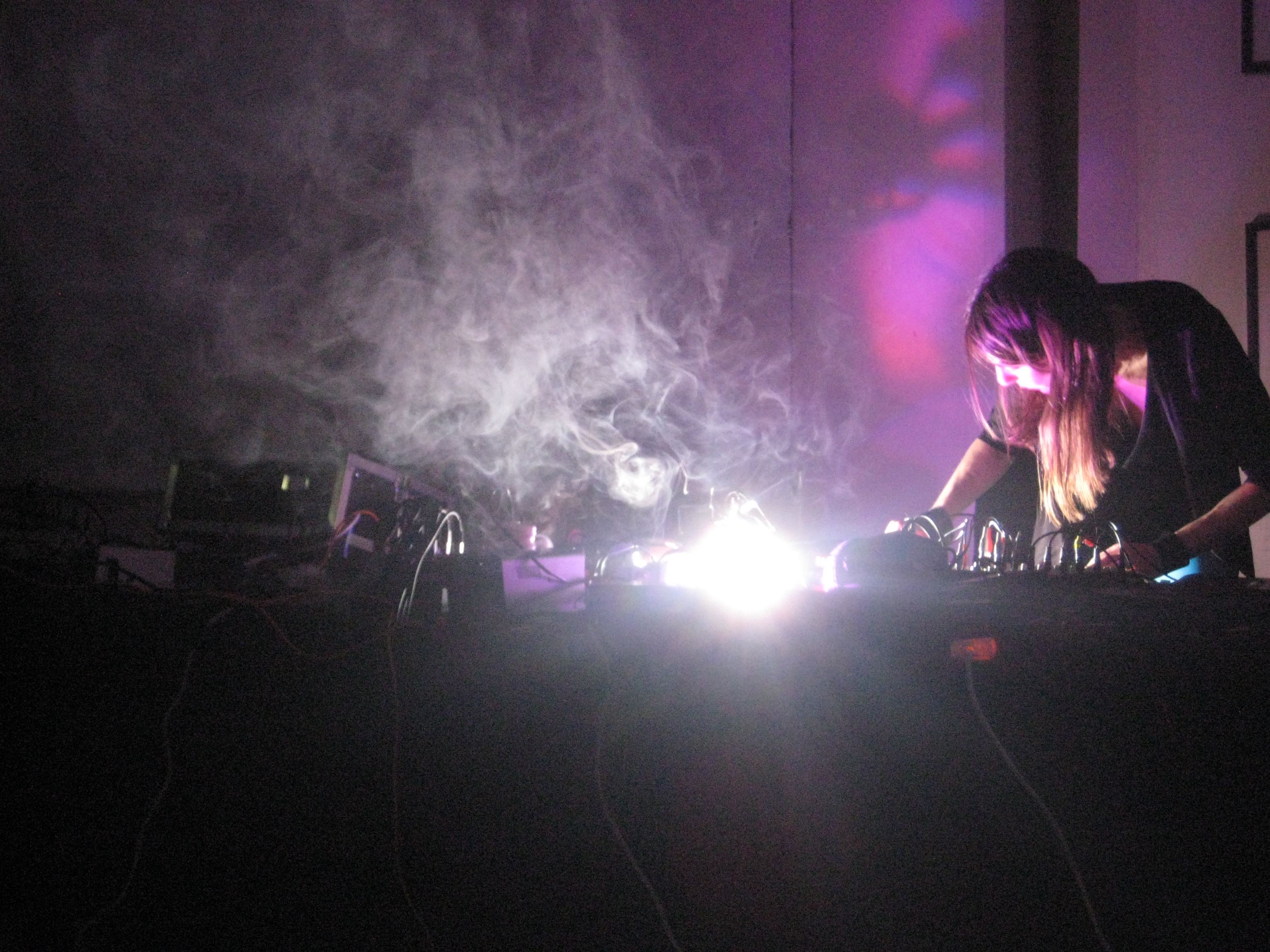 tech
PA, mixer, circuits, lights (colored, intermitting, strobos, laser), cables.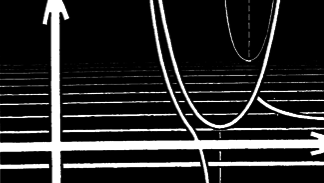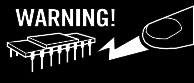 timezones 2010 - 2017
London (UK), 11 June 2017
Phantasmata @ Cafe Oto

London (UK), 7 October 2017
Phantasmata @ Sounding DIY

London (UK), November 2017
Spectropticon @ Music Hackspace



Descartes, Treatise of Man, 1664.
New York (USA), 21 May 2017
Phantasmata @ Source Festival / Algorave
xname, Scorpion Mouse, 2050, Parrises Squares, Ramsey + Tims
London (UK), 12 May 2017
Phantasmata @ The Engine Room / IKLECTIK
xname, Tom Richards
Gateshead (UK), 5 May 2017
Phantasmata @ The Old Police House
xname, line cutters, wrest
London (UK), 30 April 2017
Phantasmata @ A'mas
xname, Eraldo Bernocchi, Over the Hump, Chimera Live, Rico Casazza Flyer - Video
London (UK), 31 March 2017
Meta-Gesture Music CD @ The Wire

London (UK), 23 March 2017
Phantasmata @ ICA
Ectopia, N-Prolenta, SIREN, xname
London (UK), 16 March 2017
Phantasmata @ A Journey of Genres
Video
London (UK), 28 February 2017
xname > Nebularosa @ Resonance FM / ACC
Recording
London (UK), 16 December 2016
Phantasmata @ Sex Living / New Noveta
A Colder Consciousness ( Flora Pitrolo), Elena Colombi, Zoe Williams, Reba Maybury, xname, Sophie Sleigh, PARISHSKIJ PUMPKIN, KJFOX
London (UK), 24/25 September 2016
Making Music with Lights @ Music Hackspace

London (UK), 10 September 2016
Phantasmata @ Transfigured Night
Ain Bailey, Alo Allik & Andrea Young featuring Sharon Chohi Kim and Sara Sinclair Gomez, Christian Faubel, Harmergeddon, Jockel Liess, lil data, xname
Video
Brighton (UK), 2 July 2016
xynaaxmue pulseone
w/ Alex McLean @ Bleach
Ryan Kirkbride, Federico Visi, Henrique Roscoe, John Robert Ferguson, Eleonora Oreggia and Alex McLean, Shawn Lawson, Ryan Ross Smith and Frank Appio, Alo Allik.
Stockholm (SE), 17 June 2016
phantasmata @ synaesthesia
Ozog/Knysak, Brutaslistas, xname.
Video by Raquel Meyers
Stockholm (SE), 12 June 2016
xname @ Fylkingen
Smullotron, xname, Motoko Honda + Louise Kvarby + Anna Lord + Johannes Bergmark.
Berlin (DE), 26 May 2016
phantasmata @ Loophole / Raw Chicks
xname, Slow Slow Loris, Janoshi Bikei.
Sound
London (UK), 1 May 2016
Goodbyelfron @ 109Balfron
Claude Heiland-Allen, Abstract Material, Alo Allik, xname, Medial Ages.
London (UK), 23 April 2016
Phantasmata @ Nebularosa01
d.R.e.G.S., Repl Electric, Samuel Hertz, Claude Heiland-Allen, S/I/S/S, xname, Shelly Knotts, nAX_Acid.
London (UK), 11 November 2015
Phantasmata w/ Claire M Singer @ Union Chapel

London (UK), August 16 2015
Phantasmata @ Musica Dispersa 06
Marlo Eggplant, Phantom Chips, xname, An Ending Ascend, Phil S Maguire, Parishskij Pumpkin, People of Lut, Nadeem, Laughingstock101, Matawan, Mnemonic, Stray Transmission, Hyperstasis, Anthony Elliot, Wajid Yaseen, Lori Allen.
Flyer - Sound
London (UK), July 18 2015
Phantasmata @ 93feeteast
Alo Allik, Adam John Williams, Renick Bell, xname, Cursor Miner, Chris Jack, Louis McCallum, Milton Blue.
Video by Mariella Bussolati
Room recording
Indonesia (NET), July 14 2015
The Colour of Your Heart @ Tantric Supersonic
Grinder Teeth, Casio Sumer, Xiane, Candy Acid, Sarana, Chra, Eden Grey, Frequebexy Bath, xname, Mama Baer, Furchick, Sabrina, Phi-Lamella, Rohco, Menstrual Synthdrone

Sheffield (UK), June 17 2015
Phantasmata @ Sonic Pattern
Paul Volinski, xname, Theo Burt, Tim Shaw & John Bowers, Alex Keegan & Alex McLean
Stream recording - Video
London (UK), May 16 2015
Phantasmata @ Music Dispersa - Anatums Abode
Marlo Eggplant, xname, Lhdh Oah, Mureed, Phlgm, Kalla, Postcards from the Vulcano, Neofung+CAO, Clara Black
Flyer, Excerpt
London (UK), April 16 2015
phantasmata @ eXperimental electronics
Solar Return, Marta Zapparoli, xname, Alo Allik, elpueblodechina, CAO
Live excerpt - Video
London (UK), October 29 2014
Duet with Claire M Singer @ Union Chapel
Kim Cascone, Xname, Claire M Singer and Bill Thompson
London (UK), April 17 2014
Duet with Claire M Singer @ Union Chapel
Berlin (DE), Jan 29 2014
xawara @ Transmediale
Berlin (DE), Jan 28 2014
phantasmata @ Sender Berlin/SalonBruit
Milano (IT), Dec 25 2013
phantasmata @ Natale Anticlericale
Otolab & guests (xname, dies_, manual destruction, menthos, mud, kcid, zerosinapsi) + Recipient.cc
Milano (IT), Dec 20 2013
phantasmata @ Macao
xname and scrub
Bologna (IT), Dec 17 2013
phantasmata @ Circolo Vizioso
Naples (IT), Dec 14 2013
phantasmata @ ex Asilo FIlangieri
xname, sergio albano, matz
Sound recording
London (UK), November 13th 2013
Phantasmata @ EAVI
Slub, Bile, Luuma, Xname, D_Sastre, Adriana Sa, DJ skatterbrainz
Sound recording - Flyer
Photos 1 - 2 - 3 by Dave Griffiths
Photos 1 - 2 - 3 by Atau Tanaka
Copenhagen (DK), October 29th 2013
Phantasmata @ renew
Adrian Freed and Teoma Naccarato, Shawn Greenlee, Xname
Ljubljana (SI), October 14th 2013
Phantasmata w/Alex McLean @ Algorave --> EARZOOM
Shelly Knotts, Alexandra Cardenas, Norah Lorway, Thor Magnusson, Yaxu & Xname
London (UK), August 15th 2013
Phantasmata @ Lurk - Cafe Oto
Leafcutter John, Paul Hession and Alex McLean, Roger Dean, Xname
Sound recording - Video - Photo
Sheffield (UK), June 15th 2013
Phantasmata w/Alex McLean @
The Audacious Art Experiment
Xname & Yaxu, Quadrant VHS
Sound recording - Photo by Susanne Palzer.
Paris (FR), April 30th 2013
Phantasmata w/ Ryan Jordan@ La Miroiterie Tourette, Evil Moisture, Ryan Jordan & Xname, John Bowers
Flyer by Andy Blous
Video by Shu Lea Cheang
London (UK), April 11th 2013
Phantasmata w/ Ryan Jordan @ Classwar Karaoke Ampersand & Anthony Donovan, Adam Boham & Adrian Nothover, Edu Comelles & Sara Galan, Ryan Jordan & Xname
Video by Rob Canning
Excerpt by tomoroh hidari
Photo1 and Photo2 by ivory bunker
London (UK), March 30th 2013
Phantasmata @ Hackship on Stubnitz
Leafcutter John, xname, Tiger Walking Downhill, Tasos Stamou, Bioni Samp, Riz Maslen - Neotropic, Anina and Jasch, Alo Allik
Sound recording
London (UK), January 19th 2013
talk to me @ noise=noise
Pablo Sanz, xname, Anat Ben-David, Retro-Death-Telegraphy
Review - Video - Photo by ivory bunker
London (UK) July 4th 2012
Moving Forest @ Chelsea Art Space
Linda Dement & Marco Donnarumma, Valentina Vuksic & Oliver Wolf, Kaffe Matthews / Ewa Justka / xname, Graham Harwood, Bioni Samp, Vasco Alves
Sound recording - photos - video
Bologna (IT) June 30th
Phantasmata @ Made in Woman
Nantes (FR) May 24th
Phantasmata @ UKI
She Lea Cheang, The Noiser, Semantik, Dragonito, Soizic Lebrat, xname, Martin Howse
London (UK) April 14th
Phantasmata w/ Ewa Justka @ noise=noise
Ampersand, Luke Jordan, Tonesucker, Max Wainwright, xname & Ewa Justka, Ryan Jordan
Video
London (UK) February 17th 2012
Phantasmata @ LCC
Ewa Justka, Ryan Jordan, xname

London (UK) January 19th 2012
Phantasmata @ noise=noise.theory
Mattin, Iles, Wilkins, Kemp, Jordan, Xname

London (UK) August 26th
Phantasmata w/Ryan Jordan @ nnnnn
Cementimental, Cheapmachines, Evil Moisture, Jamka, Jonathan Kemp, Martin Howse, Noriko Matsumoto, Ryan Jordan, Ryoko Akama, Tonesucker, Xname
Video
Trondheim (NO) July 22nd / 24th
Phantasmata @ Stoy Pa Landet
The Soundbyte, Wolfgang, Utku Tavil, Johnathan Kemp, Martin Howse, xname
Sound recording - Spartito
Berlin (DE) April 16th
Valerio Tricoli ft Phantasmata @ N.K.
Eli Keszler, Bill Kouligas, Arnau Sala, Valerio Tricoli+Phantasmata
Photos
Sheffield (UK) April 8th 2011
Phantasmata @ Access Space
Video by Richard Bolam
London (UK) March 10th
Phantasmata ft Kaffe Matthews @ NOHUP
Evil Moisture, Ryan Jordan, Kaffe Matthews & xname, John Bowers, jjjemp Video by Niha - by Kaffe
Bergen (NO) November 20th 2010
Phantasmata @ Piksel
xname, Pan&Tone, Automat.Piss.Tool aka Mr Porridge, Limonius vs Mesa, Basstro djs
Video Stream - Giss channel
Fragments by Pan&Tone 1 - 2 - 3 - 4
Photos by Marco Donnarumma 1 - 2
by Pan&Tone 3 - 4 - 5 - 6 - 7 - 8 - 9 - 10 - 11 - 12
Milano (IT) October 9 2010
Otolab in Phantasmata @ Medionauta
Video
Enschede (NL) September 9/11 2010
The singularity is near... @ GOGBOT
9Sept=Etienne De Crecy/Xname/Alva Noto/YMCK/030303
10Sept=Atom/HEllfish/ElectricKettle/Xname/Dorian Concept/LoopsHaunt/Sickboy/BrokenNote/Ladyscraper
11Sept= TeamPlastique/Knalpot/Xname/Benga/Eprom/BrutuzzvsGomez
Video by Florian Cramer.
Video by Gogbot festival.
Video 1 and 2 by freepartysoundsystem
Photos 1 and 2.
London (UK) August 12th 2010
OpenLab Night#8 @ The Hackney Rose
MCLD, Xname, Rob Munro, Rob Atwood, Ryan Jordan, Gerri McEwan, Jonny Stutters, Claude Heiland-Allen
Video - Audio
Linz (AU) August 18/20 2010
Phantasmata @ Dorftv
Xname+Otolab
Play Video
Linz (AU) August 2nd 2010
NDC && Phantasmata @ STWST
Xname+Otolab
Excerpts and Photos by joncates
Full recording: .wav or .ogg
Phantasminut sirj loop
Linz (AU) July 21st / August 2nd 2010
xname artist in residence @ Eleonore
Interview at Radio Fro - Press

Milano (IT) June 13th 2010
otolab in phantasmata @ Baraonda
Winner of the Competition for electronic drums!
Play Video.

Bologna (IT) May 8th 2010
xname ft otolab @ UP ARTE 3.0
Andreco+Teatrino Elettrico, Blue Velvet, Xname, Otolab, DJ Nicorus, DJ Menthos
Spartito - Video - Audio

London (UK) April 25 2010
noise=noise @ AREA10
Des Esseintes & Jonathan Grieve, Ryan Jordan and JM Bowers, Stephen Cornford, Russel Callow, Cheapmachines, Janos Gabor, Edge Effect, Xname, Jamka, H.T.R.
Audio .ogg .wav

London (UK) April 21 2010
Ewen House @ Foundry
A/V Foundry Docu
Audio1 .ogg .wav
Audio2 .ogg .wav


London (UK) Feb 21 2010
noisebots @ E:vent Gallery
Hannah Wen-Shan Shieh, Martin Howse, Preslav Literary School, Ryan jordan, Xname
Audio - Video